I initially wasn't planning to look at this, since someone else is trying to help you with this. But I am an admin, and it is, therefore, my job to review. So, with sword in hand and Coat of Midnight upon my shoulders, I sally forth to attack this.
Elyon wrote:

Name: Elyon
You know this is a reference to the Jewish bible, right?
Jews are cool wrote:

Age: 20ish (she doesn't really know)
Why not?
Constitution wavering wrote:

Gender: Female
Ladies.
GO! wrote:

Physical appearance: Small build she is lean and light. She has blue hair that she wears in two high pigtails. She also has bright blue eyes, pale skin and a ever present grin.
Not much detail here. Everything is very vague or 2-Dimensional, at best. She has no definite shape at the moment; just a collection of features that sort of make a human.
Amorphous Blob Man wrote:

Clothing of choice: Mini skirts, long socks, tank tops, boots and a cutesy plush back pack. So pretty much anything that could be considered a ten year old clothes worn by a 20 year old.



Pictures:
Pictures don't do it. You need to describe these things. I wouldn't think any of this is that out of the ordinary for an adult to wear, either. I'd do it.
No pictures wrote:

Weaponry of choice: Katanas, daggers, swords, guns, forks, knives, really just anything she can get her hands on. Though she does seem to have a taste for nicely made weapons.
In what world do swords and guns count as "anything she can get her hands on,"? There's also no definite number to how many weapons are here or how much she actually carries on her at any point, so you're set up to magically pull any weapon you want from no where in the middle of a battle. That is not okay.
Nein wrote:

Race: Special human
Deep breaths wrote:

Abilities: Can't die (pretty much because if she could she would die FAST) and she also very fast.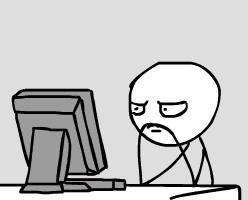 No. You can die. There is no immortality. Apparently no clarification on how fast you are, either.
Die wrote:

Organization: None
Figured.
Groups are for squares wrote:

Personality:
Elyon is honestly just best described as crazy. She literally is just bat shit insane. She acts like a naive little ten year old (who doesn't get that the clothes she is wearing is a bit too much small for her) but with weapons. She runs around trying to have fun and make new friends but at the same time anytime someone acts violent she brings out weapons from her backpack.
This doesn't sound very crazy; just like a normal person. She wants to make friends, just like most people. If she's threatened, she'll retaliate. That's not all that unusual. There's not much actual personality here, either.
"She's crazy." Okay. And? What else is she? Is there nothing else to her besides the fact she has an ambiguous disorder?
Sailor Moon wrote:

Rank: None
No Rank wrote:

Biography:
Elyon was brought up in a horribly broken household. She was constantly raped by her father and his friends, and her mother ignored it all happening. When she was about seven years old something snapped within side her and when her father was getting ready for another session she found a knife on the kitchen table. She killed her father and left her home never looking back.
No amount of Wyatt Earping could satisfactorily illustrate my pure and utter hatred of this piece right here. Rape-as-backstory is one of, if not THE, worst trope there is, and you have it in spades. It's insulting to everyone who's ever experienced sexual abuse by a family member, and to me personally for various reasons.
From a purely literary standpoint, as well as a realistic and logical one, this makes absolutely no sense at all. Why does the father feel the need to abuse his daughter? Why does the mother ignore it? What kind of person has a bunch of pedophiles for friends? How does no one figure this out? How does this act of murder not effect her in any way, shape, or form?
This is shoddy storytelling at best, and highly offense at worst.
Red vision wrote:

Living on the streets she never really settled down. She wondered place to place with the whole idea of adventure in her mind. When ever someone came a bit close to her though the knives appeared again. She makes friends extremely easy as she is quite trusting and believes what everyone says without a second thought. She is just not willing for anyone to touch her especially in a romantic/sexual way.
Because this is totally how rape victims act. And seven year olds can just support themselves on the streets perfectly fine.
Rage wrote:

Somewhere along the way she got a fluffy bear pack which for some reason seems to be able to fit all the weapons she ever wanted in it. Which seems to include katanas which really shouldn't be able to fit in there...
Magic bag is magic, which isn't allowed. Where does this child get weapons? She is living on the streets and has no money. People don't just throw away swords; where is she buying these things?
Lantern guide me wrote:

RP samples:

[/b]

Seeing the dog start growling Elyon stopped mid flight with her eyes filling up with tears, "Puppy doesn't like me?" She said unsurely. Why wouldn't the puppy like her? Suddenly getting an idea in her head she grabbed her fluffy bear backpack off her back and started going through it. Finding something she liked she presented a dagger to the dog, "look puppy!" And then she eagerly threw it in the distance, "Fetch!"
We do require a real sample, not Tumblr asks. You also do not provide a combat sample.
On any other day, I would disapprove this in three seconds. Since you're sick, though, I will reserve myself and give you a chance to turn this into a working character. Take a few days to get better, then try again. But, honestly, this is the first time I have felt real anger for something on this site. I'm setting the bar high now. I really hope you won't disappoint me.