Have you see the OVA or read the manga series of Hellsing?
I have read all of the manga and anime that have been English dubbed
Name:
Herr Major AKA Montana Max
Age:
Looks to be in his 30's (Actually 95)
Gender:
Male
Physical appearance:
Herr Major is a relatively short, stout man with a rather large...presence. Being a leader of the Letz Battalion, it makes sense that he would have the blonde hair of their ideal race. As for his eyes, there are a very empowering golden brown which seems to go with his large stature. H carries himself with the pride of the German race and can not be bothered to grimace, even when his forces are being decimated. In fact, it's hard to count the amount of times that his unusually white teeth aren't showing.

Clothing of choice:
As a leader of one of the most feared organizations, the Major always wears a very large white suit coat accompanied by a large white trench coat which seems to go all the way to the ground. On his fat nose, he has probably some of the most reflective glasses that I have ever seen. He also has a dark brown tie which is held down by a very ornate rank pin. Otherwise, he has typical German officer trench boots.
Weaponry of choice:
Other than his massive amounts of soldiers, he carries around your typical standard issue German Luger, a pistol which is capable of firing 8 rounds per magazine at a range of up to fifty meters per bullets. Other than that, he has a few standard issue military grenades but that is it.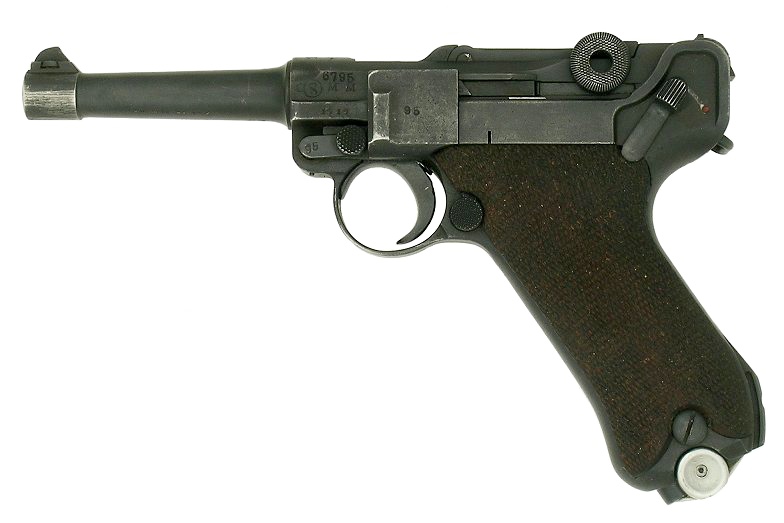 Race:
Cyborg
Abilities:
Due to his charismatic nature, he is capable of leading thousands of soldiers much like his many German predecessors. His speeches are truly a work of great oratory even though he would seem half mad from society's standpoint. He also, due to being a cyborg, is capable of taking far more damage than normal and can't be killed easily. Similarly, he does not age at all for the same reason. As seen in the OVA, The Major is also a very poor aim which is surprising considering how much previous war experience he already has.
Organization:
MillenniumPersonality:
He is often referred to as the Crazy Major for a reason. As he put it, his purpose is a complete absence of purpose. The man loves to send his units into an almost non-winnable situation simply because he loves the sound and feel of war and all of the enjoyment that it brings. He is relatively quirky in the way that he acts and is frequently humming some sort of show tune whenever he isn't conducting the symphony of war or speaking directly with his troops. With his great charisma, it is no surprise that he tends to give grand speeches to his troops which seem to inspire them to march straight to their deaths regardless of the situation. On top of everything, he gets no greater joy than when he is at the mercy of his enemies as he stated in his popular "I Love Var" speech. Especially from his rather violent past, it has left him in sort of a Stockholm Syndrome sort of feeling where rather than be afraid of war, it is instead a feeling of euphoria and comfort for which there are hardly even words to describe. For him, "var" is something that cannot be measured on a simple scale. It is more enjoyable than the most exquisite cuisine and for which money is no option.
Rank:
Sturmbannführer
Biography:
Montana Max was born during the Great Depression to a very violent upbringing. His parents struggled to make ends meet and both had very different styles of parenting which could be blamed for his much different behavior toward later life. After his parent's death, to relieve some of the animosity that he felt during his upbringing, he joined the Nazi SS at a very young age and quickly rose through their ranks. He served on the front lines as one of their most vicious soldiers all the way to the bitter end of the Nazi Regime in 1945. Following the Hellsing Dawn story, he was mortally wounded during one of his failures in the battlefield, Herr Doktor managed to transfer much of Max's will into a new cybernetic body which would soon stand the test of a much greater task completely. Montana Max was later in his life, due to his many successes, asked to carry out a new order which would take him to the rank he is now, Executive Order 666. This led him, with the help of the Vatican in South America, to create the newly revived Millennium Order and strive toward a new purpose. As he put it, this purpose would be a complete absence of purpose, a war unlike any the world had ever seen that would strike at the heart of London. He would use his previous dealings with Alucard as well and scientific experiments to form his own regime of thousands of genetically altered vampires which would proved to be quite a formidable force later in the Hellsing story by single-handedly disturbing the Round Table Conference as well as claiming the life of Sir Arthur Penwood.
RP sample
: His smug face was the one that all of his soldiers had looked to for inspiration and his smirk went from ear to ear. The Halls of the
Deus Ex Machina II
were gleaming with their usual grandeur and a grand gold Swastika lay on the floor underneath a battalion of a thousand strong. Upon the arrival of their long absent leader, like a ripple that sent sound through the whole airship, one thousand boots clicked to attention and brows were raised in high salute. The rows of perfectly manicured German SS uniforms were a sight that brought a feeling of giddyness straight down to his soul. Followed closely behind the Major were his usual supporters, the ever crazy Herr Doktor, as well as the silent Captain Hans and warrant officer Schrodinger. Anxious to bask in feeling of the glory of his revived army, the grinning man took a moment and raised his head high as he turned to face his army. The lights caused a luminescent glare to reflect off his glasses as his smirk turned into a full toothy smile, the whiteness of which was only matched by his outfit. Taking a deep breath, he started to speak to his troops only to be interrupted by the muffled cries of what looks like a young German ex-soldier. His uniform was already removed in defiance and tears were strewn all over his face. A piece of cloth was tied around his mouth into a makeshift muzzle as he was lead out by another one of the soldiers to be brought before the Doktor and shoved down onto his knees. The soldier than went to join the rest of the Reich. With another unusually gleaming smile, he simply continued with his speech.
"As you v'ere Gentlemen. It is a good feeling to be back here vith one's troops around you. My soldiers, ve come back from the grave to fight again. And so, I ask you soldiers if if our last var could ever be as sufficient? To me, there is no time like ze present to free ourselves yet again from this mortal world. Ve sing battle hymns of our glorious return to find ourselves vaking to ze zounds of fresh machine gunfire and nuclear explosions. Ze zounds of which are music to my ears and a sign that ze our var vas never over. Ve as zoldiers of ze Letz Battalion shall visit havoc to our enemies and stab zem as though we never left. Ve owes it to ourselves to being ze pride of Germany's finest Third Reich to destroy our enemies vith all of the bombshells and mortars we can throw at them. I vant nuzzing more zhen to vatch enemies be blown to smithereens and leave only screaming and charred ash in our vake."
There were more muffled cries from the soldier as he wriggled to try to escape from the Doktor's grasp unsuccessfully. The Major let out a long sigh and then simply added,
"Gentlemen. It is our cause to be zoldiers of var. A zoldier zat runs from an enemy or zat tries to help an enemy escape is to be thrown to ze wolves, a failure to his cause and to his fellow zoldiers. He has disgraced his uniform and corrupted his purpose. I ask you Gentlemen if z'here is anything more vorthless on zis earth zhen ze zounds of a zoldier screaming for his life as as ze lion approaches to free him for his disgrace on zis mortal world? Is zhere anything more pitiful zhan a traitor begging for his life, his screams vhich fall on deaf ears brought to bear against the fury that is instrument of our var?"


The Major pointed his Luger at the soldier and fired only to miss the first shot. With another smile,he corrected his aim and placed a round directly into the side of his temple which was happily met with a stream of traitorous blood which fell just short of his boots. With a grimace, The Major finished his speech on a much more determined note.
"Zoldiers. Ve are ze harbingers of death. A driving force vhich has been recorded in ze history of var as little more zhan a footnote in ze pages of our enemies. As ask all of you if zis is satifactory considering all zhat ve havve accomplished. Ve have left cities ravaged, ve have burned traitors und enemies alike. I ask you is zhere anyzhing more insulting zhan zhis footnote, our enemies' disregard for our sacrifice ringing out across ze fields of our dead zoldiers. Friends, zhere is nuzzing I vould like more zhan to char zhese enemies corpses leaving them littered across ze streets of zhere cities to be scavenged by ravens in ze night...Gentlemen, I vant you to burn every house und leave zhere vounded as a permanent monument of defiance. Let no zoldier in zhis room ever be forgotten as we tread on ze crushed bones of our enemies, our tanks ripping zhem to shreds and crushing beneath of heels.


A thousand war cries shouted out across the hall with pride.


"Sieg Heil. All hail the Sturmbahnfuhrer."


With another deep breath he added,
"Friends, let us destroy our enemies und let zhem curse us to zheir mortal graves. Zoldiers, show zhem ze fires of var."